Welcome to Dan Chicorel Guitar Instruction
In addition to being the Head Pro at Monarch Bay Golf Club…I'm also a performer and teacher of guitar and music.
I started my music journey while in college back in 1981 and have kept that passion alive ever since.
After years of privately playing, I finally came out…to play music in public 🙂 I haven't looked back ever since. Since that time, I added offering music lessons. Currently, I teach privately and beginning guitar classes at West Contra Costa Adult Education.
I'm a big believer in music theory, and that is taught during lessons along with the tenements of guitar playing.
My greatest area of knowledge is in the jazz arena. But I'm also a devotee of the Beatles.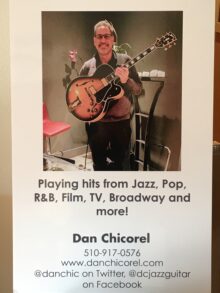 I had my own Beatles cover band together for 6 years or so and find they are a wonderful basis to learn the guitar given their universal appeal.
So if you are looking to learn how to play, or improve your playing, I'd love to get to know you.
In addition to guitar, I'm skilled at the piano and bass and thus can offer you lessons (probably up to an intermediate level) on those instruments.
I teach from my home in El Sobrante and also via Video.
My rates are $1/minute. Most lessons range between 30-60 minutes weekly.
Please feel to reach out with any questions. You can call me at 510-917-0576 or email me at danchic@gmail.com